Kristi Ramon, Teacher Mentor Coordinator
Spearman ISD's vision is to have an effective highly qualified beginning teacher program that partners with teachers new to the profession. The mentor program will provide support that is sustained over time and intended to further the education and professional development of the protege. First, second and third year teachers will receive mentoring, coaching and training in a variety of different levels (The Heart of Teaching). We believe every teacher can be effective when given the training, support and time.
Everyone needs time to process new learning. A thoughtful training plan has been established considering the amount of new information being taught, timing of the school year and expected outcomes. In July, the First Year Teacher Academy (FYTA) met for the first time. Five teachers are part of this dynamic team:
Ms. Shelby Saul

Ms. Andi Travis

Mrs. Nelly Rosendo

Mrs. Alejandra Alvarez

Mrs. Sherrie Wood
The "Fab Five" will meet throughout the school year with Mrs. Kristi Ramon covering topics that will inspire, support and encourage others so they are effective teachers that make a positive difference in the lives of their students.
Fifty years from now it will not matter what kind of car you drove, what kind of house you lived in, how much you had in your bank account, or what your clothes looked like. But the world may be a better place because you were important in the life of a child. Author Unknown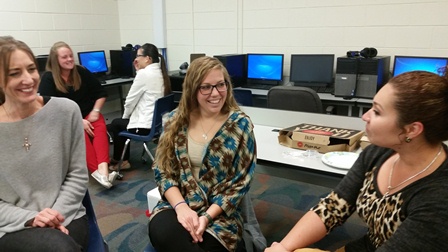 ---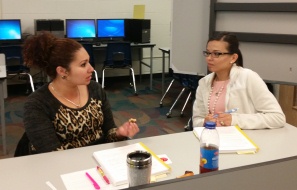 The First Year Teachers recently attended a training learning about how to maintain the classroom environment and working with parents and the community. The teachers learn ways to engage students while learning how to be a more effective teacher.
| | |
| --- | --- |
| | Mr. Batton makes learning fun by getting students up out of their desk! His students have been learning about solving systems of 2 linear and nonlinear equations. The objective of the lesson was to use as a test review for solving systems. The students worked the problems on a person's body outline acting like these were systems of the body while making a connection to what they learn in Biology. |
---
The teachers completed Day 3 of the First Year Training. Understanding the learner, being a professional educator, and managing stress were the topics of discussion in this training. The teachers are committed to making a difference in the lives of students.